Unfinished Wood Siding Guide
When it comes to choosing wood siding, there are a lot of options. First and foremost, you have to decide if you want to install unfinished siding or go with prefinished siding. For this article, we're focusing exclusively on unfinished options.
There are three main decisions to be made when selecting the right unfinished wood siding for your project:
Choose a species
Choose a siding profile
Choose a size
Wood Siding Species
There are a number of wood species you can use for siding. Here in North America, three of the best options are cedar, hemlock, and pine.
Budget, appearance, desired finish, and performance over time are all important considerations when selecting a species.
Cedar
A classic siding option, cedar is a durable wood that's naturally resistant to rot and decay and repels insect damage. It's also extremely light and has a beautiful appearance which is enhanced when finished with a stain or natural oil.
Out of the three species we are looking at, cedar will be the most expensive.
At The WoodSource our cedar comes in two main grades: select and knotty.
Select Cedar Siding

The face is virtually clear of knots.
Select cedar looks beautiful finished with a UV-blocking stain or oil to preserve the colour. Select cedar primarily comes from the tree's heartwood and has a larger variation in colour.
It's ideal for saunas, soffits, or anywhere where a clean high-end look is desired.
Knotty Cedar Siding

The face will have tight (stable) knots, giving the project a more rustic look.
It can be finished the same as select cedar (UV-blocking stain or oil to preserve the colour).
It's great for the cottage, exterior siding/panelling, or on the ceiling under a porch.
Hemlock
An often-overlooked wood siding option is hemlock. It has a lighter, more uniform colour than cedar and a more distinct grain pattern. It also doesn't contain extractives (waxes, fatty acids, resin acids, and terpenes of a tree), so it's not prone to bleeding.
Our customers choose hemlock when they want something with a beautiful grain, clear of knots, and lighter in colour. It fits in beautifully with most designs as a warm neutral colour.
Pine
A cost-conscious wood siding option is pine. It comes in a variety of profiles, making it a popular option. It has been used for hundreds of years throughout North America as a way of cladding the exterior and interior of barns, homes, and cottages.
Pine isn't as rot-resistant as other wood options such as cedar, so it's important to choose the right finish and keep up with regular maintenance if you select this option.
Wood Siding Profiles
Exterior wood siding needs to have shielded joints. This allows wood to expand and contract with temperature/humidity fluctuations while preventing water from seeping behind the siding. There are a number of different siding profiles, but a few of the most popular are tongue & groove, cove, bevel, channel, and board & batten.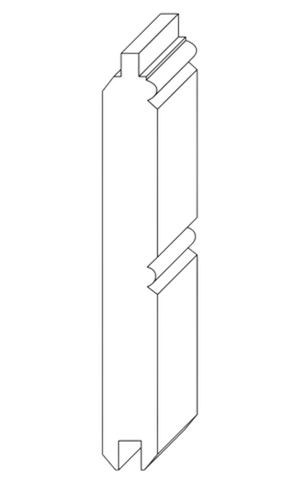 Tongue & Groove Siding
---
The most common wood siding profile is tongue & groove (T&G).
These boards have interlocking ridges and grooves that fit together snugly, protecting joints from water damage.
Note: T&G can be installed horizontally or vertically.
Within the T&G siding category, there are a variety of edge finishes.
Three of the most common edges are v-joint, penny gap, and square edge.
V-Joint

Edges are beveled to create a "v" when installed.
The bevel angle varies and ranges from slight to very pronounced.
Penny Gap

Also referred to as nickel gap/joint.
One top edge is milled short to create a penny-width (or nickel-width) reveal.
Square Edge

Can also be called flush-joint or butt-joint T&G.
There is no space between the end joints, creating a seamless look.
Cove Siding
---
This style is also referred to as Dutch lap or German lap siding.
A slope on one of the boards tucks into a notch on the opposing end of the next board. This style creates deep shadows that add texture and interest.
Note: Cove siding should only be installed horizontally.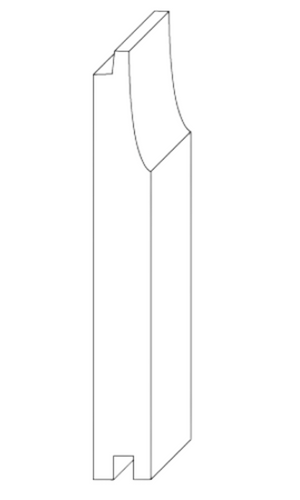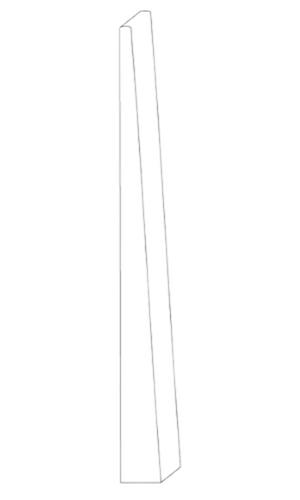 Bevel Siding
---
A bevel profile is tapered, with the thinner top end overlapping the thicker edge of the next piece. This is a classic siding profile and is sometimes called clapboard siding.
One variation of this is rabbeted bevel siding, where a rectangular groove (rabbet) is milled into the back of the board's thicker end. This detail creates a better moisture seal without compromising the look of traditional bevel siding.
Note: Bevel siding should only be installed horizontally.
Channel Siding
---
In this profile, a long-notched edge overlaps a shorter edge to reveal a "channel" when installed. The width of the channel varies depending on the profile selected. This siding is popular because of its simplicity, both in looks and installation.
Note: Channel siding can be installed horizontally or vertically.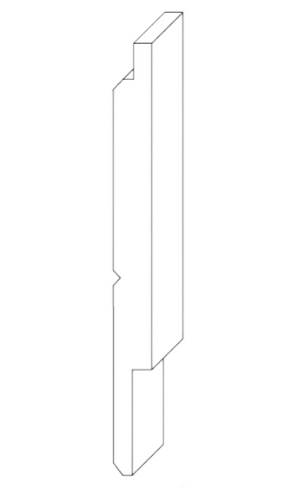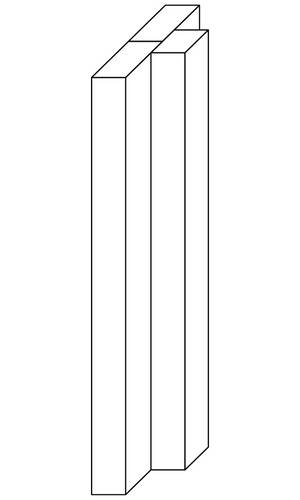 Board & Batten Siding
---
Board & batten is one of the oldest types of siding.
Narrow strips of wood (batten) are installed over the joints where wider pieces of board meet.
Note: Board and batten should only be installed vertically.
These are only a handful of the most popular wood siding profiles. There is almost an endless variety of custom profiles available.
Wood Siding Size
Some profiles, like T&G will offer a variety of sizes, while other profiles might only be offered in one or two sizes.
There is no standard wood siding size; however, you can expect to find boards in the following sizes:
It's important to note that wood siding sizes are nominal (in name only) measurements. The actual dimensions of the boards are smaller as a result of the milling process. It should also be noted that actual dimensions will vary between suppliers and mills, so always confirm measurements from the mill where you're purchasing the siding.
The WoodSource is a fully operational mill and premium lumber supplier. We manufacture a number of siding options in cedar, hemlock, and pine on-site. We can also create custom siding profiles to match your existing heritage home or hard-to-find siding profile.
Contact us to learn more or get a quote on wood siding.
"*" indicates required fields