How to Match Gingerbread Trim 
There are over 7,500 properties listed in Ottawa's heritage register, with many of the homes in the Victorian or Carpenter Gothic style. While these homes are undoubtedly beautiful, a problem homeowners of these heritage buildings often face is how to match deteriorating (or missing) gingerbread trim.
You could try to replicate the trim by hand or find a similar mass-produced detail, but this often results in variance from the original design or inconsistencies in the finished product. If you're looking for an exact match, we've found the best way to recreate the intricate detail of gingerbread trim is to digitally replicate the design and manufacture new pieces with our CNC machine.
What is Gingerbread Trim?
Gingerbread trim is the general term that includes all the ornate embellishments found on Victorian, Carpenter Gothic, and Ontario Cottage-style homes. The style originated in Haiti, but the term was coined by tourists who saw the resemblance to the gingerbread houses they were familiar with back home.
How to Match Existing Gingerbread Trim with a CNC Machine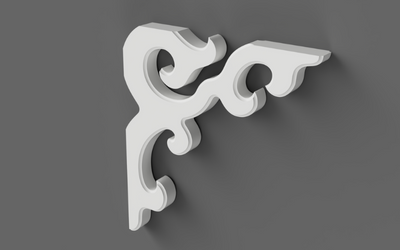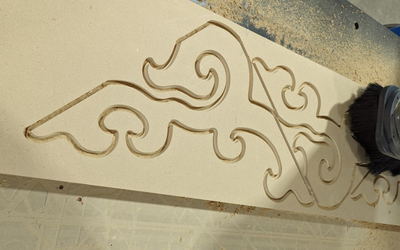 1. Replicate the Design
We've developed an efficient way to replicate even the most intricate heritage designs. The first step is to digitally replicate the design. A simplified explanation of our approach is:
Take high-quality photographs of the sample.
Digitally trace over the design.
Make manual adjustments to make sure the design is perfect.
2. Load the Design
Once we approve the design, we load the file into one of our ShopSabre CNC machines. The trim can be cut out of a variety of materials. Sometimes customers choose to use the original wood species, other times they opt for something different. More often than not, we use exterior-grade MDF (Roseburg Armorite) or white pine for trim replication.
A bonus of using a CNC machine to replicate gingerbread trim is that it can make installation easier. Many intricate balusters, posts, and spindles were originally installed individually. When we replicate the design, we can create panels that install in a fraction of the time, while preserving the original look.
Gallery of Past Work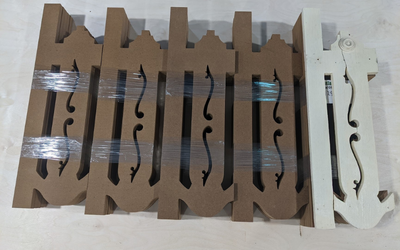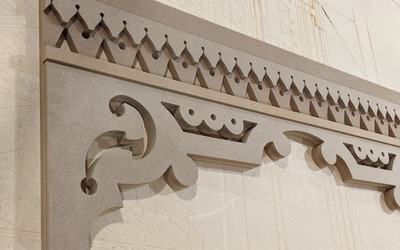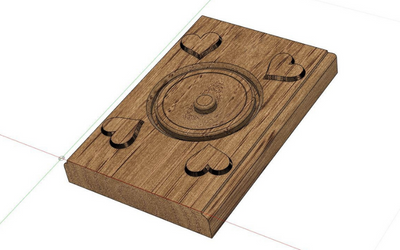 Gingerbread Trim Styles that Can be Replicated by the CNC Machine
We can replicate almost any type of gingerbread trim including:
Gable trim
Porch, post, and arch brackets
Eave decorations
Door and window headers
Running trim
Decorative and flat-sawn porch balusters
Spandrels
Picket fence sections
Rosettes
Did You Know?
While Victorian and Carpenter Gothic homes are most often associated with gingerbread trim, another style called Ontario Cottage was popular in the 1820s –1890s. Builders usually constructed this style of home in rural areas of Ontario, incorporating gingerbread wood trim on the gables and front façade.   
The detailed decorative work on heritage homes was initially crafted by hand; however, now we have the technology to reproduce a range of trim options easily.
If you are looking for a quote on gingerbread trim reproduction (or any other type of trim), get in touch and we'll respond within one business day.
"*" indicates required fields
Sources: These old houses: City's heritage inventory in the books.