Prefinished Wood Siding Guide
If you're looking to re-side your home with wood, you have two main options: unfinished wood siding or prefinished wood siding.
Prefinished siding is popular because it comes with a factory finish, so you don't need to worry about painting or staining after installation. It's very easy to install and is warranted for up to 50 years against rot and decay!
There are several companies offering prefinished wood siding options. The WoodSource sells products from four of the main producers:
Maibec
Maibec is the market leader in pre-finished solid wood siding. Their genuine wood siding line is:
Made with spruce-fir (SPF)/sound tight knot lumber.
Kiln dried, allowing the siding to achieve the right moisture balance to ensure optimal stain adhesion and minimum movement in extreme conditions.
Factory-coated on all six sides in a controlled environment for maximum stain absorption and retention.
Packaged in 4'-16' random length bundles.
There are two types of finishes available:
Textured Finish: 100% authentic finish that reveals the wood's grain. Its available in a wide range of solid colours and natural shades.
Brushed-Face Finish: Soft to the touch with a contemporary aesthetic. It's available in 12 natural tones and solid colours.
Maibec offers two installation methods:
Regular Installation: Uses galvanized ring shank nails stained the same colour as the siding for a flawless finish. This installation method is compatible with most profiles and widths.
Maibec em+ Installation: Siding locks into place thanks to the end-matched tongue and groove joints that secure the siding at the top, bottom, and ends of every board. This installation method eliminates the need for face nails and requires virtually no mitre joints.
There are six Maibec Genuine Wood Siding profiles:
Rabbeted Bevel
Modern
Contemporary
Board & Batten
Channel
V-joint
May-bec or My-bec? 
We get a lot of questions on how to pronounce Maibec. The company got its name by combining Maine and Quebec, the two places where the company had its first customers. So the correct pronunciation is May-bec.
Cape Cod
Another prefinished wood siding option comes from Cape Cod. Their product line is:
Made from western Canadian softwood.
Kiln dried to 12-15% moisture content.
Sealed on all sides in controlled factory conditions.
Packaged in random length (4'-16') bundles.
Cape Cod siding is available in two finishes:
Solid Colour: 100% acrylic, breathable water-based paint in several ready-stock colours or they have the option to customize a colour to your exact specifications.
Semi-Transparent Stain: Choose from one of 10 shades that adds a bit of colour, while still maintaining the natural look of the wood.
Installation varies slightly based on the profile, but all siding requires the use of Cape Code stainless steel ring shank nails.
There are seven Cape Cod prefinished wood siding profiles:
Rabbeted Bevel
Channel
Double Rhombus
Traditional Cove
Board & Batten
Euro Channel
Traditional V-joint
V-joint Center V
Fraser
Fraser Wood Siding is a Canadian-made product that is sustainably harvested from 100% PEFC-certified forests in British Columbia. Their siding is:
Made from premium Canadian lodgepole pine.
Kiln dried to 12% -15% humidity.
Factory coated on all six sides with Sherwin-Williams' next-generation urethane-based performance coatings.
Packaged in random length (4'-16') bundles.
Fraser Wood Siding is available in rough, smooth, and brushed finishes. There are three colour palettes:
Solid Stain: Fraser is partnered with Sherwin-Williams and offers an unlimited colour selection for their wood siding options.
Semi-Transparent: Choose from 12 classic and modern tints that enhance the natural beauty of the grain.
Atlantic Collection: This unique finish combines Sherwin-Williams next-generation base coat with a semitransparent urethane glaze. Choose from eight vibrant colours.
Fraser offers two prefinished wood siding lines: Classic Series, and Evolution series. The Classic series is a shiplap design that uses a traditional installation. The Evolution series is a tongue and groove design that eliminates the need for face nails and significantly reduces installation time.
There are seven Fraser wood siding profiles:
Bevel
Cove
Channel
V-joint
Board & Batten
Neo
Euro-v
LP SmartSide
Another prefinished siding option is LP SmartSide. This is an engineered wood siding made from wood strands and fibres that are treated with zinc borate. This helps the siding resist damage from termites, fungal decay, and harsh weather like hail. It combines the natural aesthetics of real wood with engineered wood strand technology to produce the most durable siding on the market.
LP SmartSide offers two finishes:
Cedar Grain: Realistic deep grainy texture that gives the siding a natural look.
Smooth Finish: A nice clean, crisp style for a modern aesthetic.
This durable siding is available in 16 prefinished colours or comes pre-primed for a custom colour application.
There are a few different siding products in the LP SmartSide line including lap siding, shakes, board and batten, and panel siding. Each product has its distinct profile and installation method.
These are only four of many companies offering prefinished wood siding products. If you have questions about any of these companies, or are interested in a special order product, get in touch!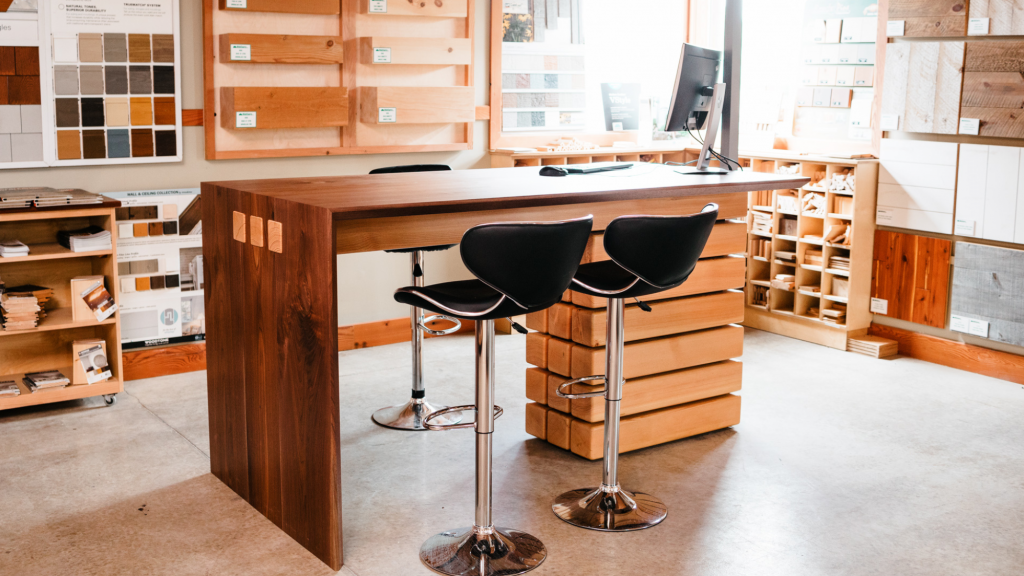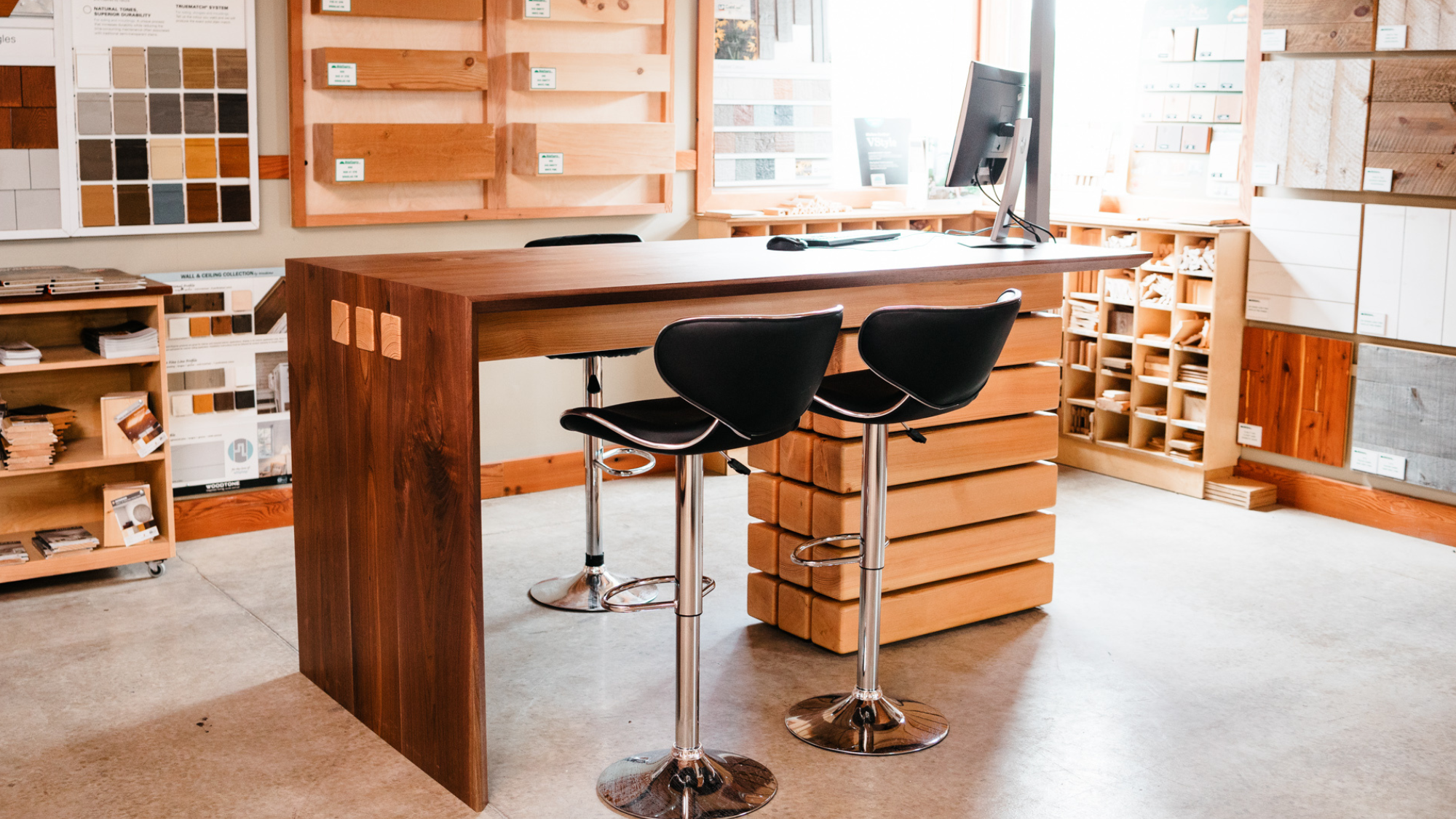 The WoodSource is a fully operational mill and premium lumber supplier. In addition to carrying prefinished wood siding options, we manufacture siding in cedar, hemlock, and pine on-site. We can also create custom siding profiles to match your existing heritage home or hard-to-find siding profile.
Contact us to get a quote on prefinished and unfinished wood siding.
"*" indicates required fields