Cedar, Ipe or Red Batu Decking – Which is Best for You?
When it comes to the best wood for an Ottawa deck, there are three main options: Western Red cedar, Ipe, and Red Batu. Any of these woods would be an excellent choice for your deck, and often the decision comes down to personal preference and budget considerations.
Cedar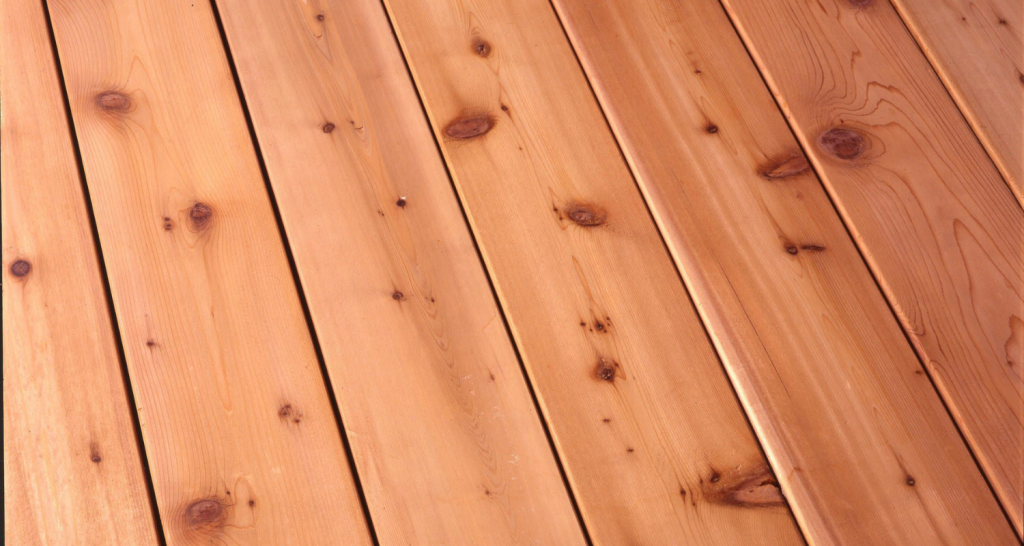 Western red cedar is the classic decking option that is not only beautiful, but also durable, long-lasting and requires minimal upkeep. Western red cedar holds a wide range of finishes, while enhancing your outdoor space with its rich beauty. It is a highly sought-after decking material and one of the most sustainable wood options on the market. 
| | |
| --- | --- |
| Colour | Heartwood reddish to pinkish brown, often with random streaks and bands of darker red/brown areas |
| Maintenance | Medium maintenance |
| Resistance | Rot resistant (to both decay and termites) |
| Strength | Sturdy and structurally solid |
| Staining Required? | Requires staining to keep from turning grey |
| Flame Rating | Class 'B' flame rating |
| Durability | Highly durable against elemental and natural forces |
| Life Expectancy | 15–20-year life span |
Ipe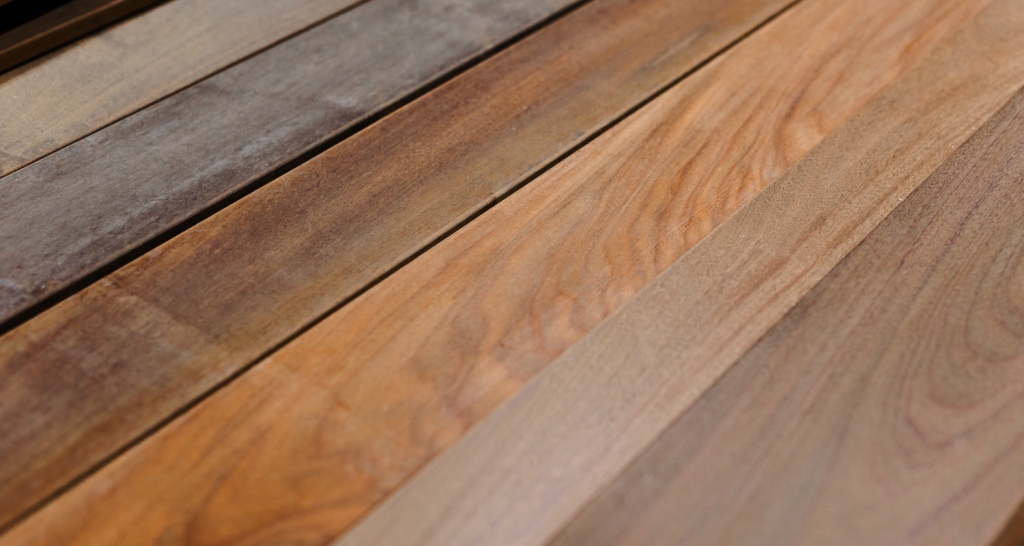 Ipe has become an increasingly popular decking material because the material is hard, strong, and naturally resistant to rot, abrasion, and weather. With genuine beauty and durability, an Ipe deck will stand up against harsh climates and resist insect damage, mold, and decay.
Ipe lumber comes in long lengths and is virtually knot free. It ages to a nice light gray with exposure to the weather. The material's colour can be protected with periodic applications of UV protective coatings. This material allows for the use of a pressure washer, which can also help bring back the original colour. 
Colour
Pleasant warm red
Maintenance
Low maintenance
Resistance
Resistant to splintering or cracks (great for bare feet!)
Strength
Extremely dense; 5x as hard as pressure treated wood or cedar
Staining Required?
Requires staining to keep from turning grey
Flame Rating
Class 'A' flame rating (same as concrete and steel)
Durability
-High wear durability;  
-Holds up in harsh climates or extreme weather conditions;  
-Little to no warping 
Life Expectancy
50+ year life span
Red Batu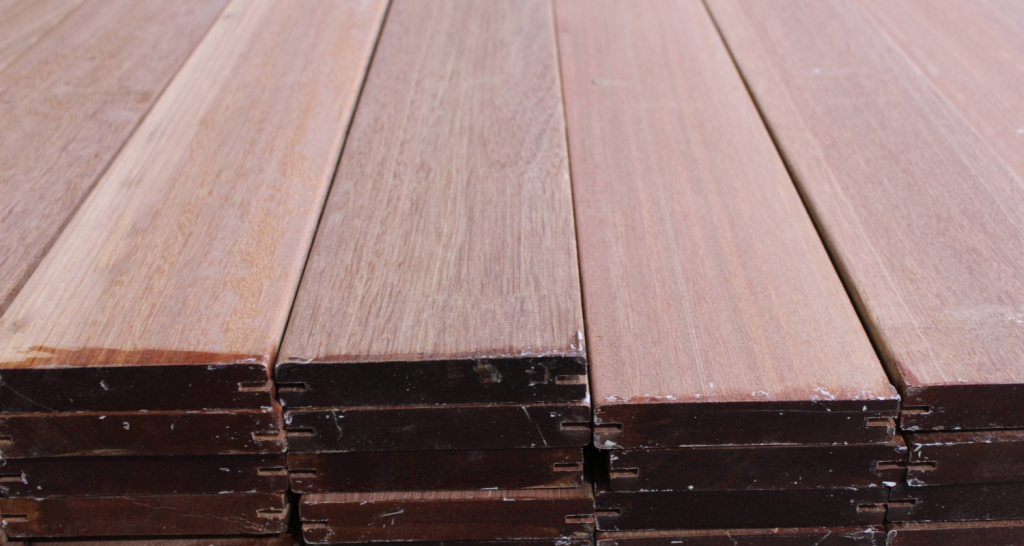 A new wood decking option is available at The WoodSource called Red Batu. Red Batu is a first choice for jobs that require superior finish, natural durability and long-lasting performance. It is a versatile, distinctive wood which provides elegance to any project. While providing the classic look of mahogany, it takes away the maintenance hassles that accompany it. Red Batu is ideal for providing a visual appeal that has long-lasting durability and requires minimal maintenance effort.
Colour
Similar to mahogany, with deeper red undertones
Maintenance
Low maintenance
Resistance
Resistant to shrinkage or splintering;, decay, molds, and insect attacks
Strength
3x harder than Douglas Fir
Staining Required?
Clear stains/finishes or UV protection if not wanting to naturally silver
Flame Rating
Class 'A' flame rating (same as concrete and steel)
Durability
-Can withstand extreme weather conditions;  
-Highly durable and sustainable  
Life Expectancy
50+ year life span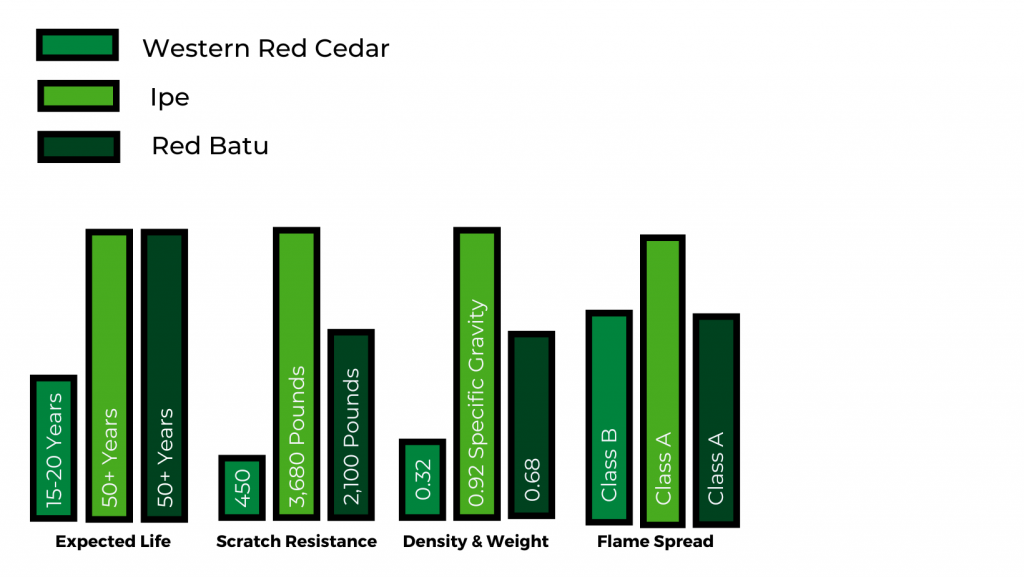 If you're looking to install a wood deck, The WoodSource is your one-stop-shop. We carry the widest selection of cedar, Ipe, red batu decking and can help you figure out which option is best for your specific project. Don't hesitate to reach out with questions or to ask for a quote!
Find out more
"*" indicates required fields