Why We Recommend CUTEK Extreme to Finish Decks 
Are you looking to stain your wood decking? High-quality decking stains protect and maintain (or enhance!) the natural look of wood. But, with so many options available on the market, it can be difficult to decide which finish is best for your project.
We're here to help by highlighting the benefits of CUTEK wood oil and how to properly apply it. 
What is CUTEK Extreme?
CUTEK was developed in Australia and is designed for harsh climates. We recommend CUTEK Extreme for most wood decking projects because it's an oil-based wood stabilizer with a unique self-healing effect. The finish highlights the natural grain and beauty of the wood while providing long-lasting protection. It works by penetrating deeply into the wood and it won't flake or peel.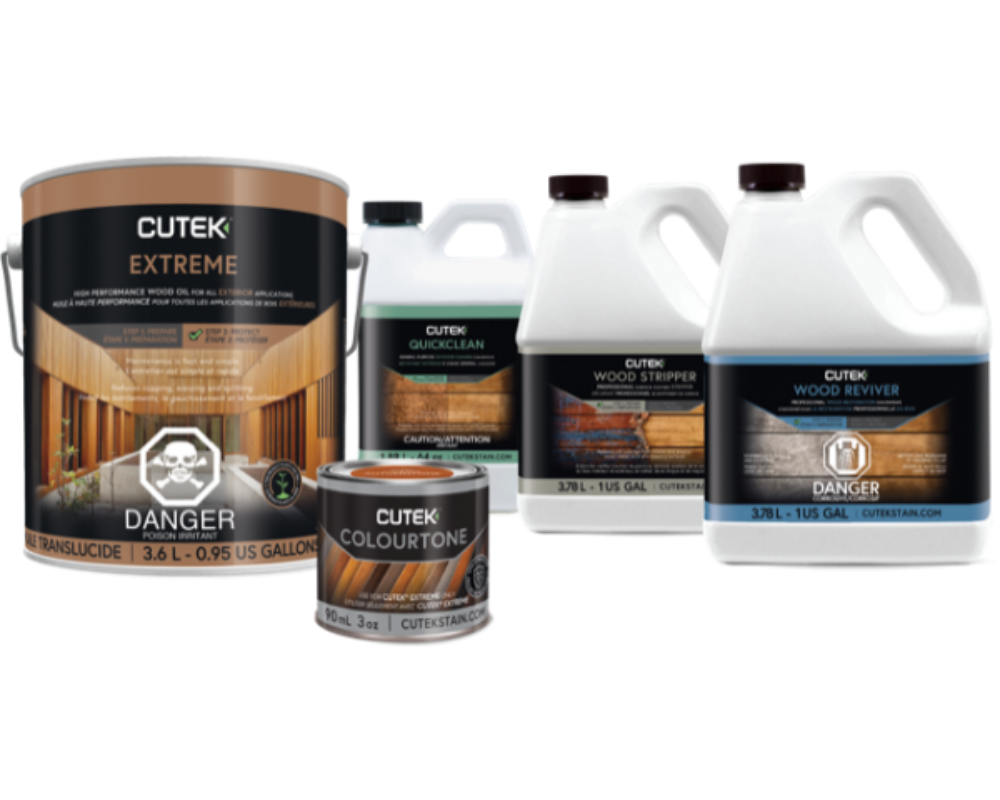 Benefits of CUTEK
Self-Healing
CUTEK Extreme penetrates deep inside the wood to protect it from the inside out, actively displacing water throughout the wood and providing long-term protection against water damage. Water is the enemy of wood, so this finish is designed to repel moisture and help maintain its structural integrity. The protective components penetrate and stay permanently mobile in the coated wood, migrating to any cut or perforation with self-healing action.
Dimensional Stability
As the stain penetrates, it actually extends the service life of the wood by reducing the chance of cracking, splitting, and warping. The increased stability means less cost on your wallet, and fewer trees cut down for replacement boards.
CUTEK Extreme and CUTEK Colourtones
Maintain or Enhance Wood's Natural Beauty
CUTEK enhances the natural beauty, grain, and texture of wood. If applied as a clear oil; it will allow the wood to silver naturally over time. You also have the option of mixing in one of 18 Colourtones to the Extreme oil. This will help enhance and maintain the freshly oiled natural look of your wood (or alter your wood tone depending on your design requirements).
Clear CUTEK (no Colourtones)
CUTEK (un-tinted) oil will allow your wood to naturally lighten or silver when exposed to sunlight while retaining the self-healing and dimensional stability benefits. There is no UV protection with the clear CUTEK, you need to add a Colourtone to prevent/slow the lightening/silvering process.
Adding a Colourtone
To enhance the natural beauty of the wood (and get UV protection) choose from one of the 18 Colourtones. To choose a Colourtone that suits your project, check out our samples online, or in-store.
Common Wood Types in Canada & Recommended Colour Tones
| | |
| --- | --- |
| Douglas Fir- Rough | Honeycomb, Espresso |
| Douglas Fir-Smooth | Espresso, Ashwood |
| Eastern White Cedar | Goldtone, Honeycomb |
| Western Red Cedar- Clear & Knotty | Rustic Gold, Honeycomb, Goldtone, Cedartone |
| European Pine | Whitewash, Honeycomb |
| Ipe | Autumntone, Goldtone, Walnut |
| Ebony | Cedartone, Rustic Gold, Honeycomb |
| Mahogany | Rustic Gold, Honeycomb, Goldtone, Terra Cotta |
| Pressure Treated | Espresso, Honeycomb |
| Redwood | Terra Cotta, Honeycomb, Espresso, Autumntone |
| Thermally Modified Scots Pine | Walnut, Espresso, Bark |
| Thermally Modified Ash | Honeycomb, Goldtone, Espresso |
| Thermally Modified Southern Yellow Pine | Ashwood, Espresso, Honeycomb |
CUTEK Finish
Take a peek at CUTEK in action by watching our penetrating time-lapse here.
CUTEK Preparation
Apply on Dry Wood
The wood needs to be completely dry before applying CUTEK. Ideally, the moisture content should be less than 17%. It could take a few weeks (or months) for the wood to be dry enough to apply the finish. One way to check the moisture is by using a moisture meter. There's also a quick test that can let you know if your wood is ready to finish.
Choose a small area of wood and place a couple of drops of water onto it. If the water soaks into the wood, then so will the stain. If the water beads on the surface, and takes a long time to absorb, then your wood is still wet and you will want to wait a bit longer before finishing.
Apply to Clean, Sanded Lumber
It's also important that the wood's surface is free from chemical residues and environmental contaminants like dust. After you are confident the wood is dry enough to absorb stain, you should lightly sand the surface. We recommend using either 80-100 grit sandpaper to get a nice smooth surface prepped and ready to absorb the treatment. Clear away all sawdust before beginning to apply.
A special note on previously finished surfaces. If the material has been previously stained, you'll need to use a stain remover. You cannot apply CUTEK over another finish. Chemical stripping and heavy sanding are recommended to ensure all previous finishes are removed and the area is prepped properly for CUTEK.
CUTEK Application Tips
Stir Thoroughly
CUTEK Extreme oil needs to be stirred thoroughly before and during use. You'll want to make sure to stir from the bottom of the can to ensure active ingredients are properly mixed throughout the oil. If using Colourtones, make sure to thoroughly mix in your chosen colour as well.
Apply Evenly
Apply a thin, even coat with a brush or paint pad applicator. CUTEK Extreme works best when applied as a thin coat. The second coat is recommended to be applied to the top surface once the first coat has completely penetrated into the wood.
Wait for Hot Weather
Clean-up
Any equipment used, including brushes, can be cleaned with soap and water. If not cleaned correctly or disposed of, oily rags or other materials may cause combustion fires. After use, immediately spread out all oily material outside to dry, by flattening them to full size in an airy spot. You will want to remove all oil from all clothes, tools, rags or other materials used.
CUTEK has good coverage, typically covering 400-800 sq ft. per gallon/per coat. Feel free to ask our sales team for advice on how much to purchase for your project.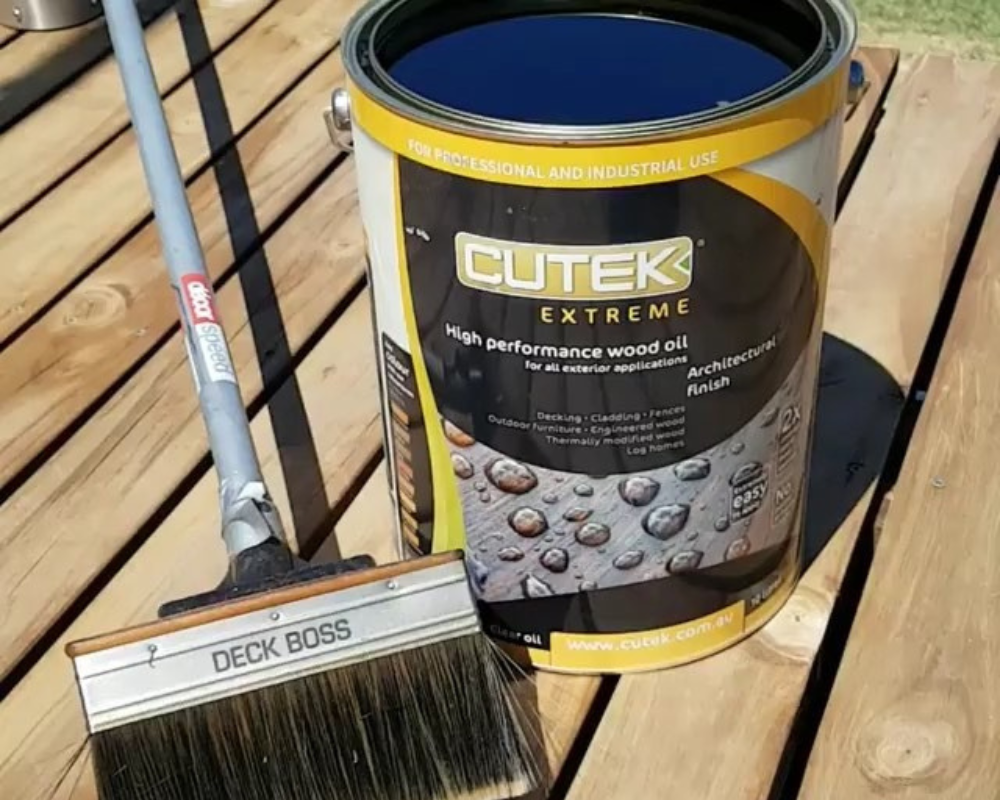 Maintenance
CUTEK Extreme should be reapplied when the wood is no longer beading water or as necessary to retain the natural or enhanced wood colour. Timing will depend on a variety of variables including wood age, species, design, weather exposure, and adequacy of preparation. Generally, we recommend a typical maintenance coat every 2 years; however, feel free to reach out to our sales team to discuss your specific project.
There's no sanding or striping involved in a maintenance coat, only a clean surface. Give your deck a quick wash and then apply one coat to the surface. A second coat can be added but is not always necessary. If you feel the wood is still dry after one (thin) coat, you can safely apply another (thin) coat!
With each additional coat of CUTEK Extreme the protection increases. If you continue regular maintenance of your wood then better protected your wood will be against water.
Please note: CUTEK is not recommended to be used on acetylated wood, food preparation surfaces, wood in direct contact with the ground, and engineered bamboo products. 
CUTEK Finish
When looking to stain your deck CUTEK is a great option, we are always eager to answer any question you may have by either phone or email! Send us an email or book an appointment with one of our sales staff and we will happily provide any extra information you may need! You may also feel free to browse our CUTEK selection in the online store!
Find out more
"*" indicates required fields