To build a pergola, you need two things: lumber and hardware. While people do have questions about the best wood for a pergola, the bigger roadblock is usually what kind of hardware to use.
There are countless hardware options on the market, but we suggest one of two brands: Toja Grid brackets or the Outdoor Accents line from Simpson Strong-Tie.
Toja Grid Brackets
Toja is a Canadian company that manufactures a line of brackets and accessories to easily customize and build a pergola. This line of pergola hardware is extremely DIY-friendly because the system is modular: decide on the post size; plan the design; choose the type of lumber for rafters and/or privacy walls and start building!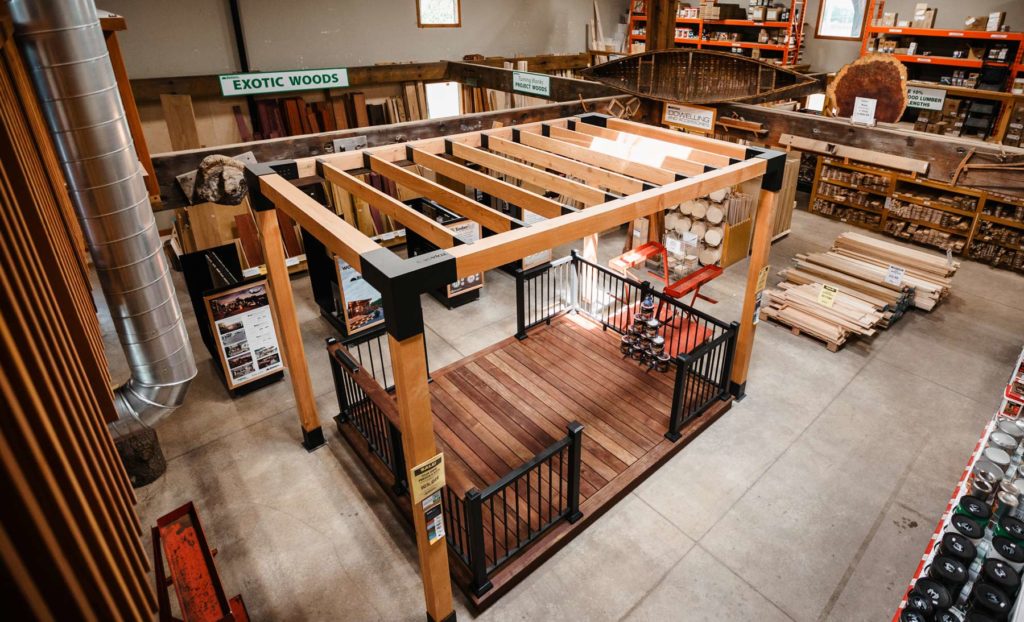 1. Decide on a Post Size
Toja manufactures brackets in two sizes: a 4×4 post structure or a 6×6 post structure. It's important to note that this sizing is nominal, and the brackets are designed to work with dressed lumber.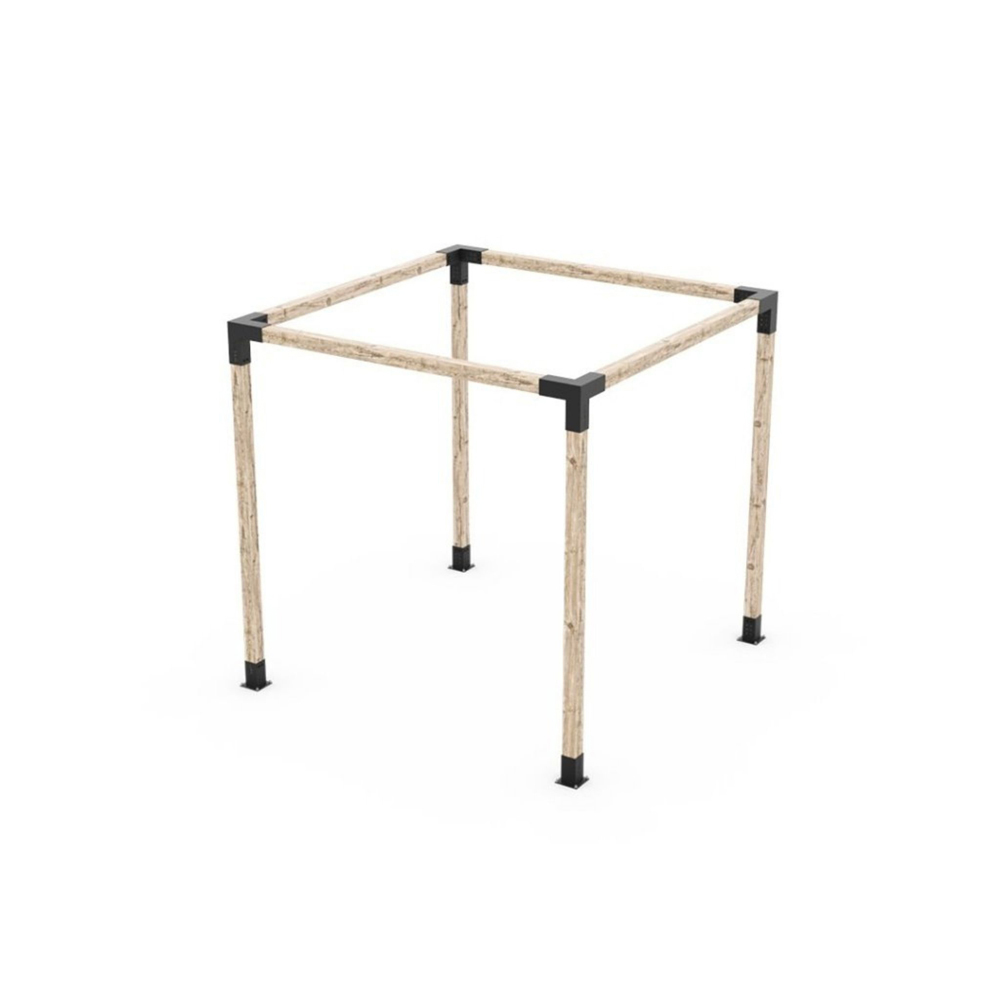 A 4×4 pergola structure uses posts that are actually 3.5"x3.5".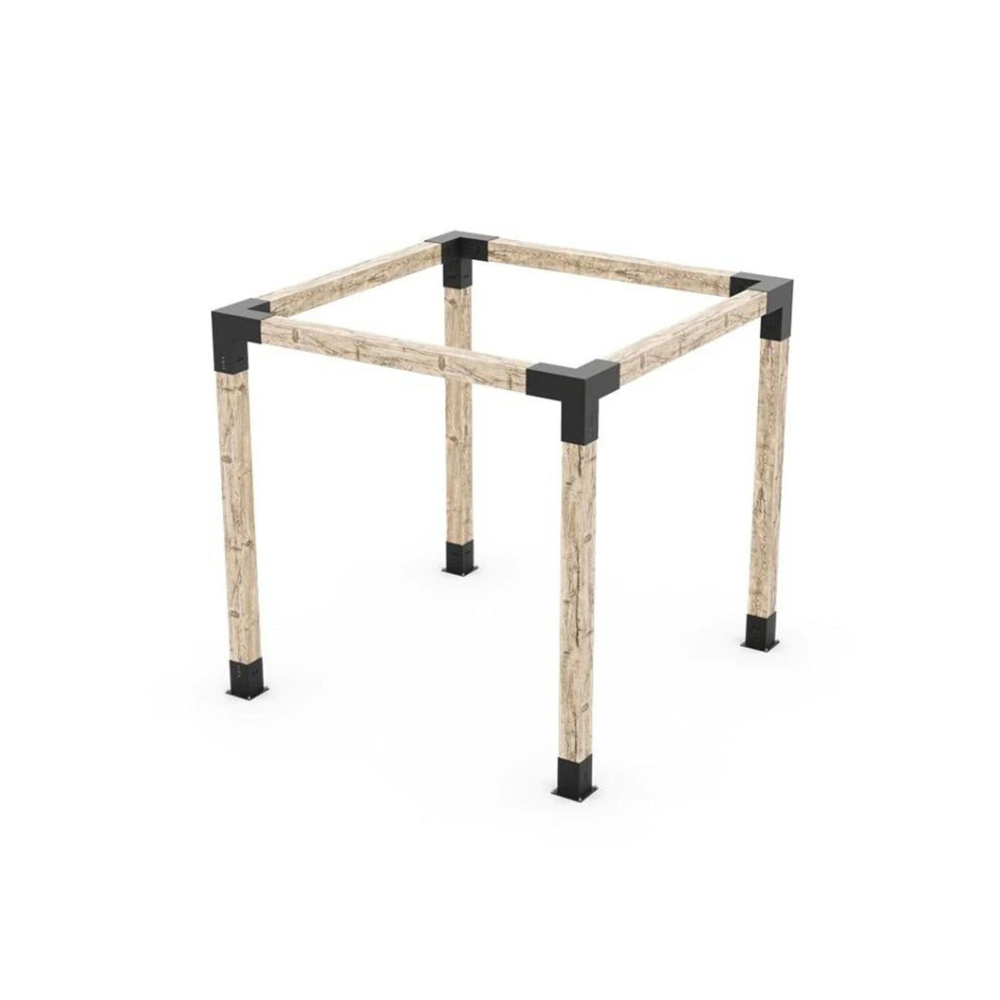 A 6×6 pergola structure uses posts that are actually 5.5"x5.5".
2. Plan the Design
In the simplest configuration, all you need to build a Toja pergola are 4 SOLO post bases, 4 TRIO arms, and 8 dressed posts. The brackets include the screws needed to fasten the lumber to the brackets, but you will need to purchase anchoring hardware that is suitable for your specific application.
If you want to design a more complex pergola, Toja offers brackets that allow you to:
connect multiple pergolas together.
add a 30° angled roof.
incorporate roof rafters or privacy walls.
They've also expanded their offerings to include shade sails, waterproof wing tops, and hammocks.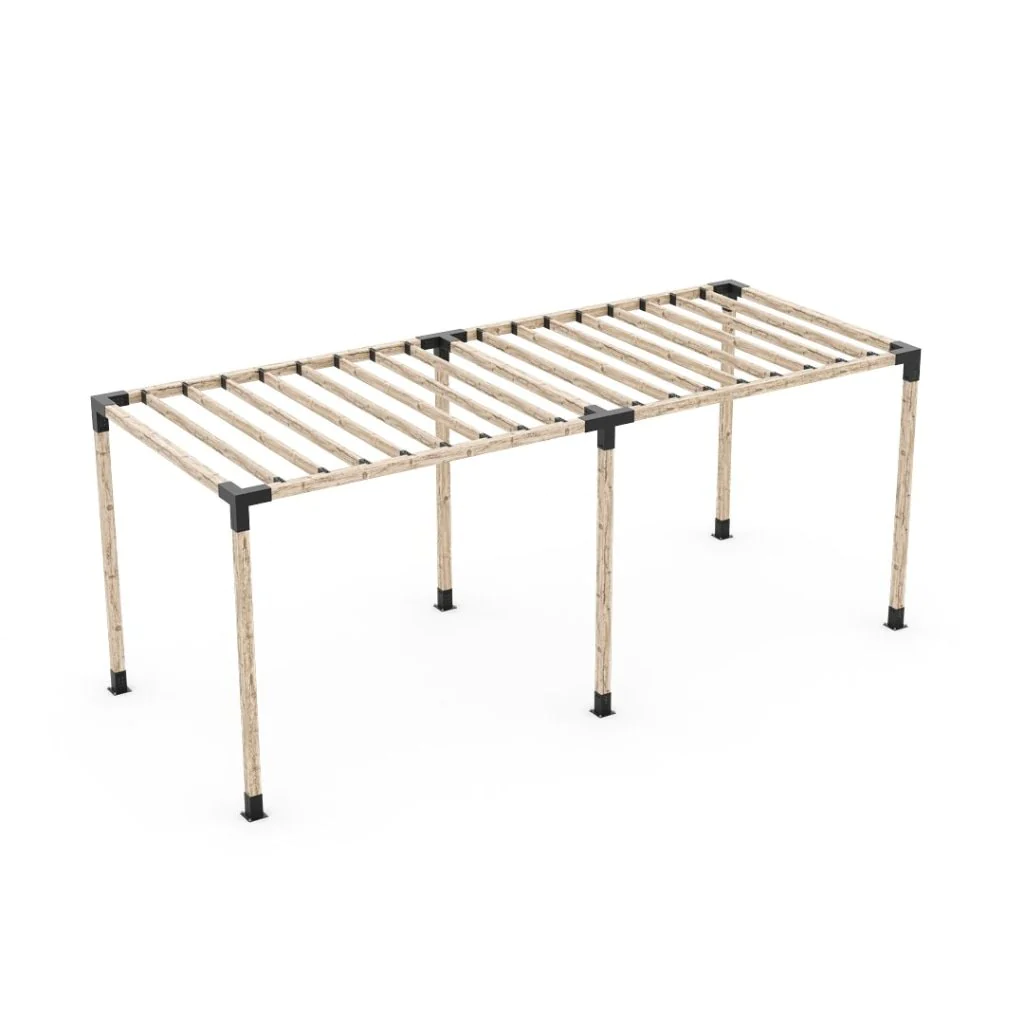 A double pergola with roof rafters.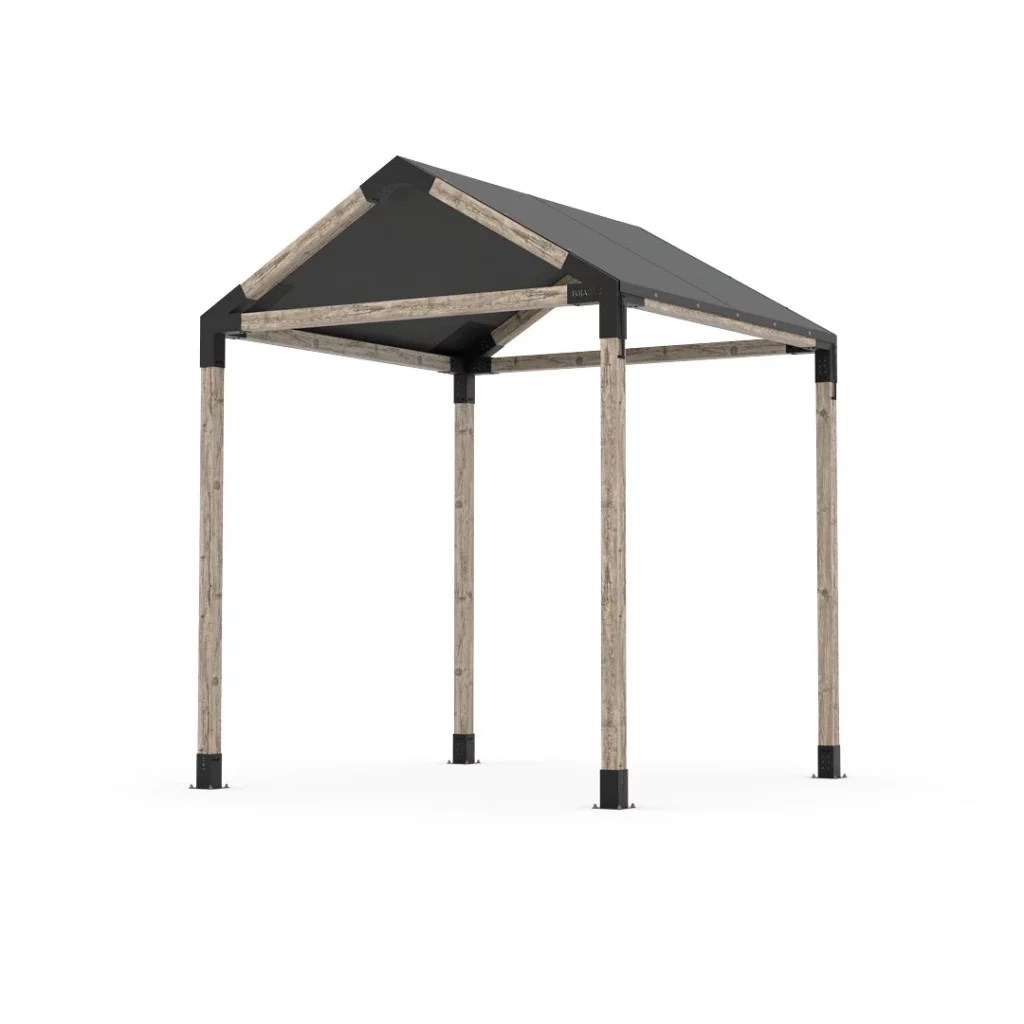 A peaked roof pergola with a shade sail.
An open pergola with a privacy wall.
3. Choose the Lumber
You need to use 4×4 or 6×6 posts for the structure of a Toja pergola; however, you have a choice for the top rafters and side privacy walls.
Toja sells brackets that will work with posts (called Post Wall and Railing brackets), or you can use the KNECT rafter brackets that take 2×4 and 2×6 nominal lumber.
Tips for Building a Toja Pergola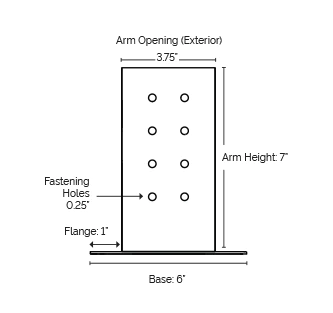 Each bracket has 8 fastening holes, but you only need to secure the lumber using the 2 openings closest to the wood. The other holes are to attach accessories.
If you want to use all the openings for aesthetic reasons, you will need to purchase additional screws and plugs.
There are tabs inside the bracket. Make sure the lumber is properly aligned against the tabs before fastening.
Make sure you have help during the build. You'll need 4 people to build a single pergola, and up to 6 people to help assemble a double pergola.
The recommended wood span is 12' per section.
Interested in learning more about pergola hardware? We've outlined the benefits of Toja Grid brackets and Simpson Strong-Tie hardware in our article, Pergola Hardware Options.
Simpson Strong-Tie Hardware — Outdoor Accents
Another way to build a pergola is by using the Outdoor Accents decorative hardware from Simpson Strong-Tie. These structural connectors have the strength to safely support a pergola build and feature a beautiful design and black powder-coat finish.
Their full line of connectors and hardware includes adjustable post bases, L straps, T straps, flat straps, and 90° angle ties.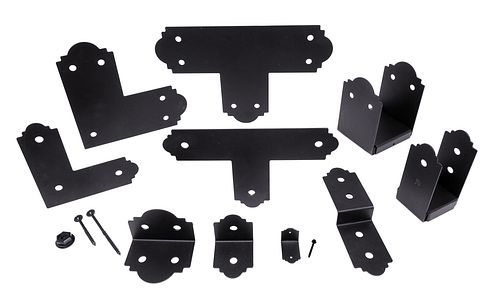 At The WoodSource, we stock the Mission Collection (featured left), which is a more decorative line than the simple Avant Collection.
What makes the Outdoor Accents line stand out from other hardware options is Simpson Strong-Tie's patented hex-head washer and structural wood screw combination.


The two-piece system is significantly faster to install (when compared to through-bolting) but gives the appearance of a bolted connection.
Please note: the washer and screws are sold separately.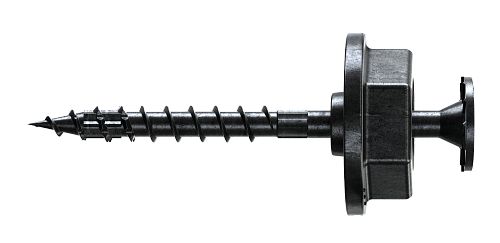 With the Mission Collection hardware, you can design a truly unique pergola, but it will require a bit more building knowledge and planning. If you're looking for a more DIY-friendly project, then we recommend the Toja line.
Whichever hardware you choose, we have everything you need to build the perfect pergola for your outdoor escape. If you have more questions about Toja or Simpson Strong-Tie hardware, don't hesitate to reach out. We can answer any questions or put together a quote for materials.
If you're ready to start building, shop for our pergola options online or send us an email and we'll get an order put together for you!
"*" indicates required fields