4 Tips to Finish a Cedar Deck
Are you installing a western red cedar deck?  Cedar is an incredibly durable building material that's naturally resistant to rot, decay, and insects. To keep your deck looking great for years to come, follow these four steps: 
Properly prepare the deck surface
Choose the right finish
Apply finish like a pro
Maintain the deck surface
1. Proper Preparation 
The first step to finishing a cedar deck properly is to prep the surface. 
Make sure cedar decking is dry.
If you're looking for the smoothest possible finish for your deck, you may want to give it sand, but it's not required.
If working with a previously finished deck, it's essential to clean the boards.
For only slightly dirty decks, a brush and soapy water should do the trick.
If mould or mildew is present, it needs to be killed before continuing. Consider using a product specifically formulated to clean cedar decking. 
Although it can be tempting, never power wash cedar decking. The high-intensity process will do more harm than good, damaging wood fibres and prematurely aging your deck.    
After the deck is clean, you can reapply the finish. Just remember that you should always use the same type of finish. If you want to change the type of finish, you need to completely strip the wood. 
Cedar decking must be completely dry to absorb stain, oil, or other finish. It can take up to two weeks for wet cedar to dry out completely.
 
Pro Tip: Put a small amount of water on the wood. If the water soaks into the wood, it's ready for finishing; however, if the water pools, the wood is still too wet to apply stain or protectant. 
Select the Right Finishing Product
Decks endure a lot of wear and tear; there's furniture friction and foot traffic, not to mention the sunlight and rain beating down directly onto the boards. When choosing the right finish for your western red cedar deck, you have many options. Western red cedar is pitch and resin-free, which means it accepts and holds a wide range of stains. Choosing the right finish is an important step and you have three main finishing options:
Allow Cedar to Naturally Weather
When left unfinished, cedar will turn a gorgeous silvery colour. How long it takes to weather depends on the environment and design of your cedar deck. Cedar can begin weathering in as little as a few months, or it could take a year or two for the grey to set in.
While this is a low-maintenance finish option, it's important to note that weathering might not be uniform. There's a chance the deck will develop a blotchy, grey appearance. It's also important to mention that without the protection of a stain or finish, cedar decks will not last as long.
Transparent & Water-Repellent Stains
The alternative to allowing natural silvering but still having the natural cedar tone show through is to use transparent or water-repellent stains. These are essentially colourless finishes that still provide protection and increase the longevity of your deck. Quality products containing UV filters will help protect from sun damage and include mould and mildew inhibitors. It is essential to remember that these finishes require frequent reapplication, which can be anywhere from 1-2 years, depending on exposure.
Transparent & Water Repellent Stains we recommend:
Sico Proluxe SRD RE Wood Finish
Please note: transparent, and water repellents should not be applied on top of other products.
Semi-transparent Stains
Cedar has a beautiful spectrum of colours that range from golden honey to rich reds to warm browns. To enrich those hues, use a semi-transparent stain. This type of stain adds a tint of colour but allows for a certain amount of the wood's natural grain and texture to show. An added bonus of semi-transparent stains is that the pigments protect against harmful UV rays. This added protection will keep your deck looking bright and shiny for an extended period of time.
FINISHING PRODUCT RECOMMENDATIONS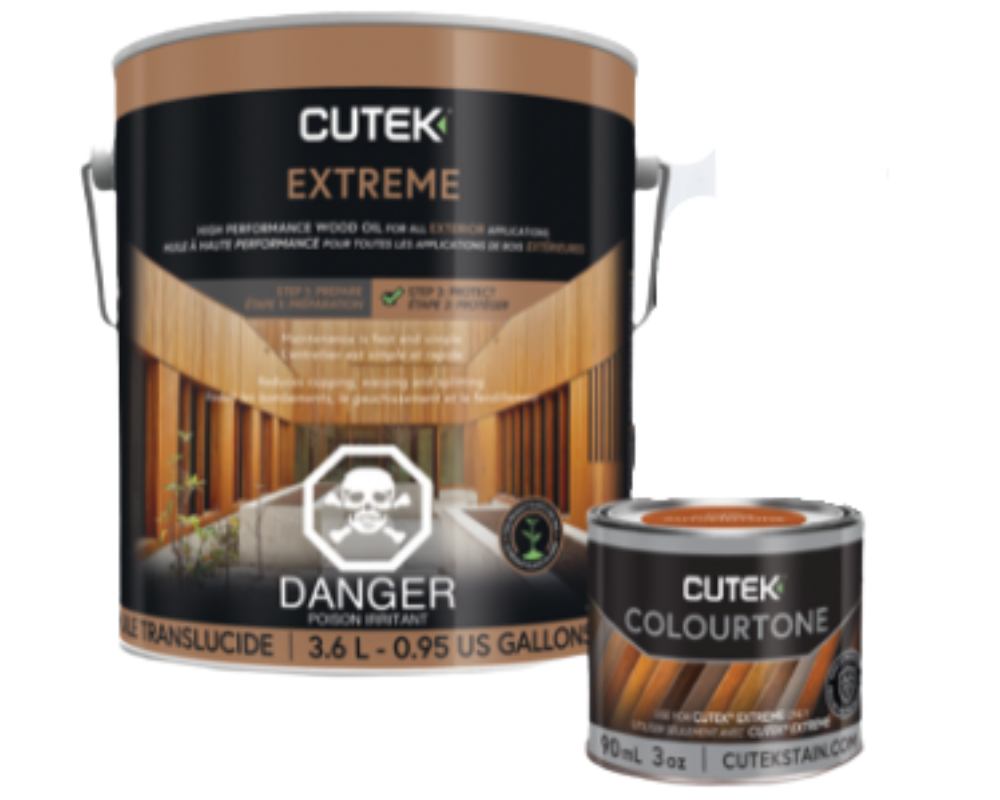 For western red cedar decking, we recommend using CUTEK, a penetrating timber oil that offers protection while enhancing the natural beauty of cedar. CUTEK diffuses deeply into the wood to repel moisture, maintain structural integrity, and ensure the longest possible service life. CUTEK requires two coats and you have the option of leaving the stain transparent or adding a colour. (Adding a colour offers UV protection.)

Topical deck finishing products will create a film on the surface of the deck and flake away. We prefer to use penetrating stains that infuse into the wood with stabilizing oils, avoiding the annoyance of flaking and peeling other products are prone to
When choosing a finish, you need to decide on the amount of time you want to commit to maintenance. Some finishing products can last up to 2-3 years, whereas others may need to be reapplied every year. Additionally, you need to factor in your climatic conditions. Staining can take up to a week to dry depending on temperatures, which will require you to plan, so you don't get caught in the rain. Finishing a deck on a hot day is optimal as it will allow deck boards to absorb the finish faster and dry in less time.
Application Tips
Once your deck is clean and fully dry, you can begin staining. If you are staining the deck yourself, there are two options for application:
Apply the stain to all sides of each board before construction, or
Apply the stain after assembling the deck.
While there is no rulebook to staining a deck and either method can work, we generally recommend assembling your deck first and then staining it. We recommend this to homeowners because it will provide you with the ease of staining instead of it becoming a long-drawn task! Although, if stained with CUTEK Extreme it is recommended to stain all four sides of the boards to ensure maximum penetration. Whichever method you choose, here's how to use each type of stain like a pro:
Transparent & water-repellents finishes
Apply it by sprayer, brush, pad, or roller. Brush in the direction of the wood grain.
Repeat application until the wood no longer absorbs any more product. Service life will increase the more water-repellent finish is absorbed by the wood.
Generous amounts of water-repellent should be applied to the end grain of deck boards.
Areas subjected to more moisture penetration, like nail or screw holes and cracks, need to be treated as well!
Semi-transparent stains
Apply stain liberally with brush, pad, roller or spray. Brush in the direction of the wood grain.
Apply finish to the entire length of two or three boards at a time (to avoid over lapping marks).
Do not apply more stain than cedar will absorb (excess stain will appear as a shiny area on the wood).
Apply stain liberally to the end grain of deck boards and also to any nail holes or cracks in the boards.
Pro tip: Work in the shade for a more even-looking application (stain will dry slower, giving you more time to work).
Maintenance
Cedar decks are a great choice because they require just a little upkeep. A simple cleaning to remove dirt from the surface once a year helps extend the service life of your deck. Soap and water will do, but if there are any signs of mildew, you will need to use a product specifically formulated for cedar decks. We recommend using a cleaner from the same manufacturer as your finishing product.
You also need to remove debris between the boards to allow proper drainage throughout the year. Even if the choice is not to apply a finish, contaminants such as dirt and mildew should be regularly removed to maintain their natural appearance.
Pro tip: Moving patio furniture or any other items, such as a BBQ, once in a while will ensure they don't leave marks on your deck's surface.
Choosing the best option to finish your cedar deck can be challenging, but that's why we stock various finishes for you to pick from.
The WoodSource has the largest stock of western red cedar in Eastern Ontario. If you're looking for help purchasing products, or would like product recommendations for maintenance, reach out to one of our friendly salespeople.
Find out more
"*" indicates required fields