Toja Grid is a simple-to-install modular DIY pergola system. The Canadian-made brackets are triple coated to prevent rusting and can be used with any dressed structural lumber to create the perfect pergola.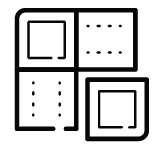 Toja Grid brackets can be configured in an infinite number of ways to create one-of-a-kind structures.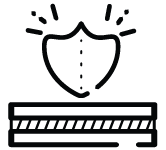 Every bracket is treated with three layers of weather-resistant coating to prevent rusting.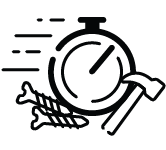 Each Toja Grid section can be assembled in about 60 minutes.
No special tools are required.
Another benefit of choosing Toja is that it is an Ontario company (headquartered in Oakville, Ontario) and they manufacture all their brackets in Canada.
Toja Pergola Kits
We've made it easier to buy and install a pergola by pairing the popular Toja Grid brackets with our own dressed lumber. Our Toja Grid pergola kits come with everything you need to build your picture-perfect pergola
Our pergola kits are free-standing and can be customized by:
Customization

Size

Choose either 4x4 or 6x6 posts in a variety of footprints and heights.

Species

We offer kits with dressed western red cedar posts, Douglas fir posts, or pressure treated posts.

Open or Shade Sail

Keep the pergola open at the top with an optional rafter add-on or choose one with a Shade Sail.
Tips for Building Toja Pergola Kits
Use Two Screws Per Side 
Toja brackets come with eight screw holes on each side; however, screws should only be installed in the two openings closest to the wood.
The other openings are to attach accessories. If you'd like to fill all the openings with holes for aesthetic reasons, additional fasteners and covers can be purchased.
Brackets only come with enough screws to use two per side.
The Best Lumber to Use with Toja
Pergola Kits
Toja brackets are designed to work with dressed lumber (also referred to as nominal lumber). Nominal lumber is not to size but is actually ½ an inch smaller than the stated dimensions. So, if you purchase a 4x4 true SOLO base, make sure the wood actually measures 3-½x3-½".
For species, we recommend either western red cedar or Douglas fir because of its strength, durability, and beauty. You could also use pressure-treated lumber, but it's more susceptible to cracking and warping.
For more detailed information on pergola lumber options, read our article: Best Lumber for Building a Pergola.
For questions about Toja pergola kits, don't hesitate to reach out. A sales associate would be happy to put together a custom quote for your project.
Stain or Finish Wood After Assembly
We recommend assembling the pergola and then staining or finishing the wood.
This allows the wood to dry evenly on all four sides. As will all projects, make sure the wood is dry before applying a stain or finish.
When using western red cedar or Douglas fir posts, we recommend using CUTEK Extreme Stabilizer oil to finish the lumber.
Build a Custom Pergola Kit
We also carry the full line of Toja Grid brackets to build a custom pergola.
KNECT Side Bracket 
Adds a privacy wall or railing to your pergola structure. There are different brackets for posts and 2x lumber 
SHOP KNECT ONLINE:
KNECT Top Brackets 
Adds rafters to the top of your pergola. There are different brackets for posts and 2x lumber. 
*Please note, there is only version of the 4x4 and 6x6 KNECT. They can be used on the side or the top of the structure. 
SHOP KNECT ONLINE:
In addition to the core brackets, Toja has also developed a line of accessories including: 
Planters

 

Side Tables

 

Hooks

 

Umbrella Tops

 
Mix and match these accessories with your pergola to create the perfect backyard escape!
Find out more
"*" indicates required fields