Deciphering cedar grades can be confusing. First, cedar can be graded using two different criteria: structure and appearance.
| Structural Grade | Appearance Grade |
| --- | --- |
| Used when strength and physical properties are the primary consideration. Generally, this grading only applies to timbers over 2" in width. | Used when strength is not the primary consideration. Instead, cedar is visually inspected and grouped based on specific criteria. |
Second, not everyone talks about grades the same way. The same product could be labelled differently between mills and retailers.
The WoodSource Cedar Grades
At The WoodSource, our cedar is graded by appearance (rather than structural) into 2 different groups:
Knotty:
Tight knots are found on both sides of the board. These knots are stable, so they're not prone to falling out. Other ways to describe this type of cedar are rustic or STK (select tight-knotted).
Select:
This grade allows for a few knots, but most of our boards are void of any imperfections. Other ways to describe this type of cedar are clear or virtually clear cedar.
Texture/Finish
The other criteria we use to grade our cedar is the texture/finish of the face and edges. There are three options: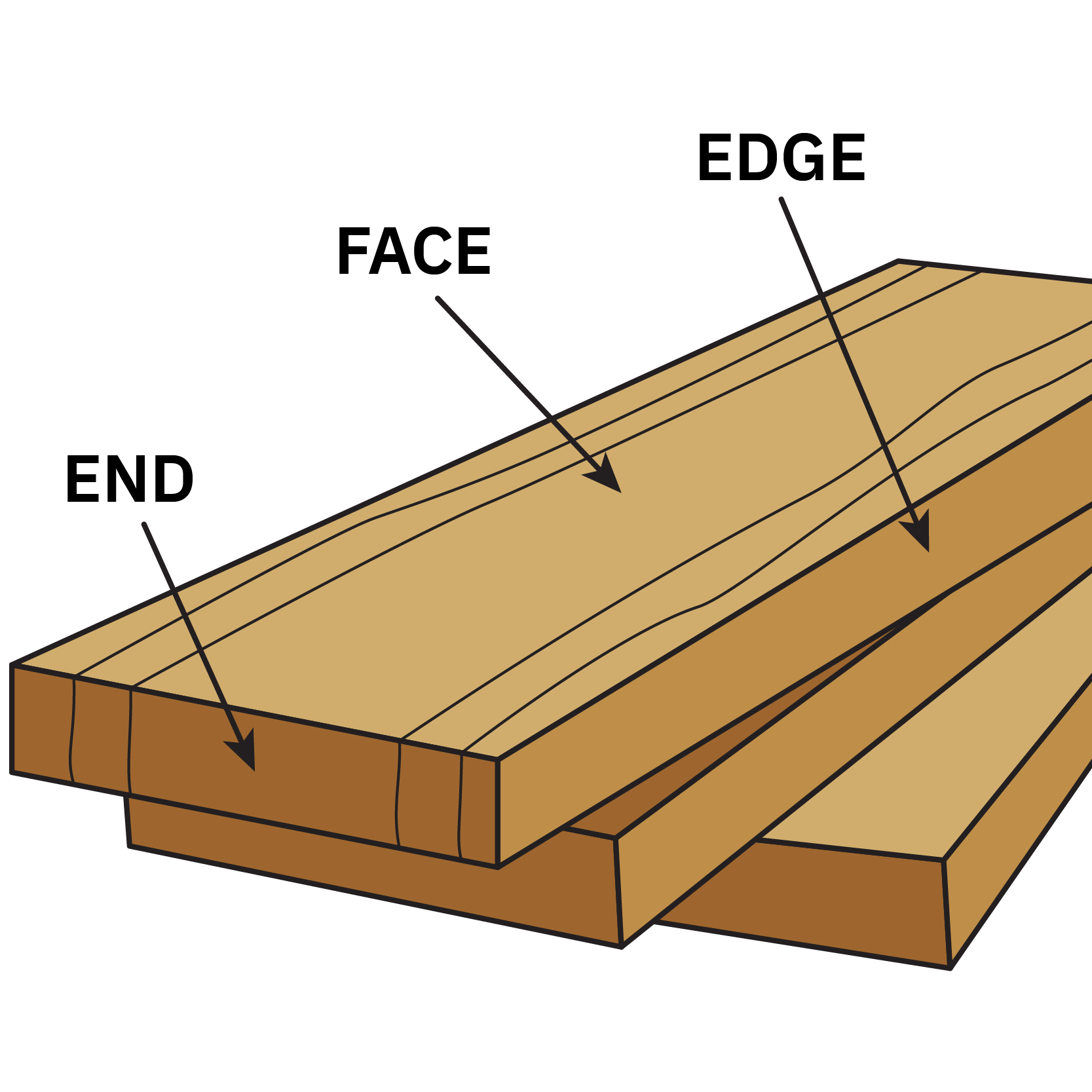 Good 1 Face, 2 Edges (G1F, 2E)
These boards have at least one face (and both edges) that are free of imperfections. The back face could have some defects or could be clear.
Good 4 Sides (G4S)
These boards have been graded for use on all four sides — meaning they're free from imperfections.
Dressed 4 Sides (D4S)
Denotes that cedar has been machined, and both faces and edges are smooth.
Using the above criteria, our cedar falls into one of the following grades. One thing to note is that not all sizes are available in all grades.
Grade
Available Size
Appearance
Texture/Finish
Standard
1", 5/4"
Knotty
G1F, 2E
Premium
2", 4" 6", 8"
Mix of G1F, 2E and G4S
G4S
2", 4", 6", 8"
G4S
D4S
1", 5/4", 2″, 4″
Select
D4S
Standard:
This is our baseline cedar grade, sometimes called construction-grade cedar. It's our most popular cedar, often used for decks, fascia, and other outdoor projects like planters.
Premium:
A step up from standard, premium cedar is mostly G4S, but could have some areas where only one face is graded for use. Often, this cedar grade is used in applications like fences or railing, where there are certain places you'll only see one side of the board.
G4S:
We hand sort this cedar grade to ensure all four sides are defect-free. The most common application of G4S cedar is pergolas and cabanas.
D4S:
This is the only cedar grade that is machined smooth on all four sides. Additionally, it's the only grade that is virtually knot free. This cedar is frequently used in saunas, custom furniture, and decks.
---
The WoodSource has the largest selection of western red cedar in eastern Ontario. Our stock includes cedar deck boards, fence boards, posts, and dimensional lumber. We also stock products like cedar lattice, shingles and shakes, vent soffits, and handrails.
---
If we don't have the cedar product you need, we can either mill it onsite or source it from our vast network of suppliers.
Reach out to speak with a salesperson and get a quote for your next project.
"*" indicates required fields