Decking & Railing
In addition to western red cedar we also carry a number of other decking options.

IPE
Although Western Red Cedar is the exterior wood for which we are best known, our stock of beautiful Ipe decking material has turned a lot of heads since we began carrying it 5 years ago. Ipe, as a decking wood is next to perfect. This beautiful exotic species from South America is hard, strong, and naturally resistant to rot, abrasion & weather. Ipe lumber is almost twice as dense as most woods and up to 5 times harder. It comes in long lengths from 8'-20' and is clear of knots. Ipe is quite a stable wood meaning that it will have very little warping, cupping or shrinking. A deck made with this wood has a very refined look and will give you great enjoyment for 40+ years!
| | |
| --- | --- |
| Dimensions | Lengths |
| 1x4 | 8'-16' |
| 1x6 | 8'-20' |
| 1x8 | 8'-20' |
| 1x10 | 8'-20' |
| 5/4x6 | 8'-20' |
| 2x2 | 4'-6' |
| 2x4 | 8'-20' |
| 2x6 | 8'-20' |
| 2x8 | 8'-20' |
| 4x4 | 4'-16' |
Thermory
Thermory decking is a product that has only recently been introduced to Canada. It is an environmentally responsible hardwood decking that is 100% from renewable North American forests. This product delivers a beautiful, warm looking decking which meets the class 1 Durability rating (25 years against rot and decay). Thermory is end matched using the trademarked JEM joint. The result is easy and quick installation as the joints between boards do not need to rest on joists. Find out more at the Thermory website.
Azek
Azek Decking is a PVC product specifically designed to eliminate some of the issues associated with composite decking. Specifically, Azek is highly mildew, stain and scratch resistant. These and other characteristics combine to make Azek deck extremely low maintenance. Come in and talk to our sales staff about this great new product or visit the Azek website.
Timbertech
Timbertech is a composite decking product with a PVC wrap. Like Azek, it is low maintenance, highly mildew, stain and scratch resistant and comes in a variety of stunning colours and textures. Visit the Timbertech website or talk to one of the sales staff for more information.
Trex
Trex is the largest and one of the oldest manufacturers of wood-alternative decking products. Trex recycles plastic and waste wood to produce a beautiful looking and long lasting deck. The Trex product will never rot, crack or splinter and is extremely weather-resistant, never need painting or staining for protection. Come in and talk to us about this fantastic composite decking product or visit the Trex website.
Regal Railing
Regal Aluminum Railing provides long life, low maintenance solutions for homes and cottages. Its longevity and quality is guaranteed not to rust or fade in all types of climates. At The WoodSource we are a regular stock dealer and custom order supplier of this premium product. Visit the Regal website for more information.
InvisiRail
InvisiRail is the ultimate railing system for wide open viewing. It is easy to install and can add beauty and elegance to any deck.  Visit the Invisirail website for more information.
FortressTM Railing Products
Fortress is an innovative building products manufacturer in North America with a vast distribution network, commitment to code testing, and groundbreaking product design. Visit the Fortress website for more information.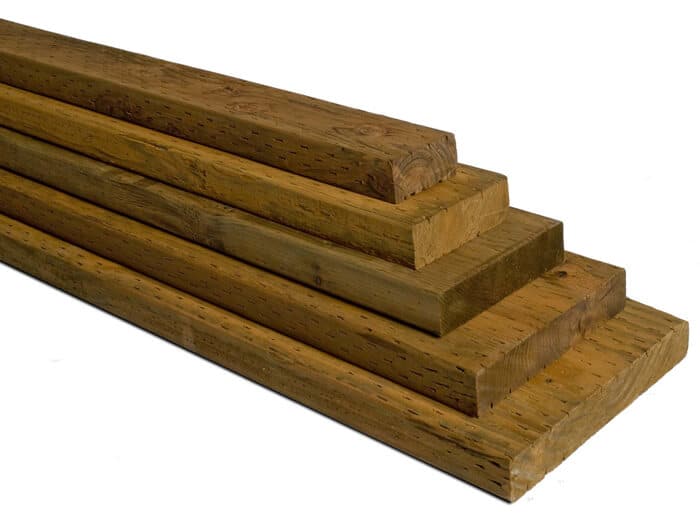 Brown Pressure Treated Lumber
We are now stocking brown pressure treated lumber in the following sizes:
2 x 6   in lengths of 10', 12', 14' & 16'
2 x 8   in lengths of 10', 12', 14' & 16'
2 x 10 in lengths of 10', 12', 14' & 16'
2 x 12 in lengths of 12' & 16'
4 x 4  in lengths of 8' & 10'
6 x 6  in lengths of 8' & 10'
Other dimensions & lengths can be special ordered with a lead time of 48 hours.